Your van runs on diesel and does not drive without AdBlue. Please pay attention to the display! What is AdBlue and why do I need to refill it?
You can fill up the tanks via the openings at the side of the driver´s door.
Above you see the diesel tank and below the AdBlue tank: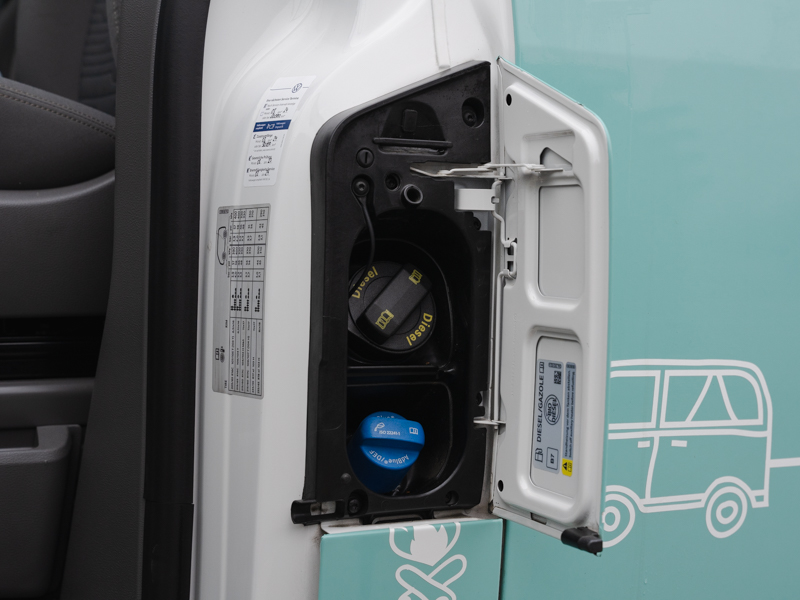 AdBlue
The on-board computer also tells you when the AdBlue level is low. A message appears together with this symbol:

Some models allow you to check the Adblue level on the cockpit. To do that, turn the key to MAR. On the left side of the steering wheel, there is a set of arrows around the OK button. Press the one pointing to the right. The menu on the screen will change. When you see "Vehicle Info." on the bottom, the information about the adblue level will come up. Move with the up/down arrows inside the vehicle information menu to see how many kilometers are left until you have to refill it again.
After filling, turn the starter to MAR without starting the engine. Wait until the indicator light on the dashboard goes out before moving the vehicle.
The indicator light may stay on from a few seconds to about half a minute. If the engine is started and driven off beforehand, the indicator light will remain on for a longer period of time, but this will not affect the functioning of the engine.
If filling is carried out with an empty AdBlue tank, wait 2 minutes before starting the engine.


Caution!
Be careful not to fill diesel into the water tank at the rear!
Do not confuse the diesel tank with the AdBlue tank when refuelling!